Dog-Friendly Eateries on Anglesey
Anglesey is not only rich with wildlife, heritage sites and stunning beaches, but it is one of the most dog-friendly holiday destinations in the UK. So, whether you're spending a day exploring the Anglesey Coastal Path or one the award-winning beaches with your furry friend, we've compiled what we believe to be the some of the best dog-friendly eateries on the Island.
There are dozens of dog-friendly eateries in Anglesey so we've tried to ensure we've provided you with a good cross-section across the Island, below are our top 10 however, we will also name others with links so you can make your own choice when it comes to indulging in a meal for you and your friend.
Nestled in Rhoscolyn and just a short stroll from the Anglesey Coastal Path, this gastropub allows dogs inside and outside, however booking in advance is recommended, especially if you're planning to sit inside. A side note to mention is that not only welcomes dogs, but they get water bowl and treats upon arrival!
The Oyster Catcher is located on the outskirts of Rhosniegr overlooking the sand dunes to Broad Beach in one direction and Lake Maelog in the other. The setup is like the White Eagle, with limited dog friendly seating inside and plenty of space for furry friends outside on the terrace. Again, we strongly advise booking to secure any inside seating.
The Stag Inn is a firm favourite amongst the locals, featuring 3 bar areas and an open fire. It's located a stone's throw from either of the beaches at Caemas Bay and is a great place to grab some food after a day walking the coastal path or playing in the sea!
The Ship Inn has incredible views of Red Wharf Bay and is one of Anglesey's most picturesque dog friendly pubs. FYI dogs are welcome inside if the weather isn't great but if we were you, we'd be outside enjoying that stunning view. Booking is recommended for summer.
Kinmel Arms is nestled just behind Moelfre beach, it's a traditional establishment with lots of drinks selections and hearty meals. I don't think we've been by and not seen families and their dog(s) on the picnic tables. Something worth noting is that no bookings are taken here, its walk-ins only.
Now this pub is something else! Not only is it a great place to relax and refuel after a day walking at Newborough, but they have a doggy shower, shampoo and towels included! Talk about luxury treatment for your four-legged friend!
Dogs have free reign here in the outdoor seating area, however, a limited but plentiful selection of dog-friendly tables inside. If you know you'd like to sit inside we recommend booking in advance and reserving a table. The views from this pub are fantastic and overlook the Telford Suspension Bridge, what's not to enjoy, cracking views, great food and some dog treats too!
Did you know this bar has its own doggie bar?! You can find the Bold Arms Hotel tucked off the main road on a quieter side street in Beaumaris. It offers a great selection of drinks and food and plenty of walks and activities in and around the town itself.
Tafarn Y Rhos is a super pub that welcomes furry friends and has great food on offer. Although being inland and not close to a beach, there are lots of great walks nearby to explore with your dog. It's also a great place to stop and stretch your legs if you're driving across the Island.
The Black Lion is a great eatery full of pub classics, although dogs are no longer allowed inside, they're welcome on the patio. The patio also features heated pods for those cooler days and provide water bowls for your furry friends.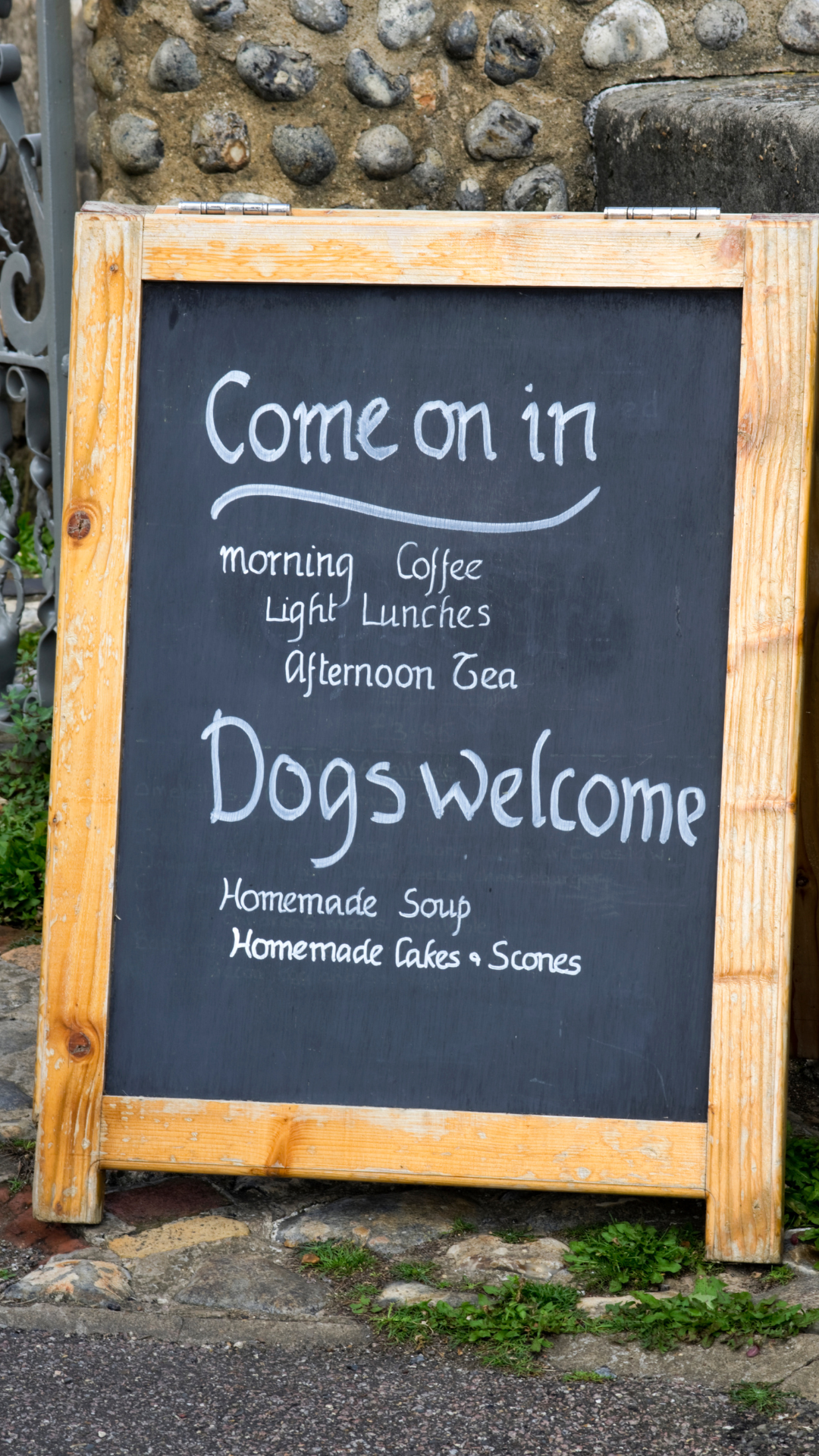 Other dog-friendly eateries:
If you're looking for a relaxing getaway with your four-legged friend, then make sure you check out our fantastic range of dog-friendly holiday homes in Anglesey.