Five Benefits of Holiday Let Management with Anglesey Holiday Lettings
If you are renting out your holiday home with a letting agent and considering a change in management, please read the five benefits of holiday let management with us, Anglesey Holiday Lettings.
Whether or not you're new to the holiday home industry, doing your due diligence in picking a letting agent is key. Hopefully we can answer some questions and put some worries at ease, so grab a cup of tea and read on.
1. We know the industry
Anglesey Holiday Lettings may be small compared to some of the 'big players' in our industry but that doesn't mean we can't go head-to-head with our industry knowledge.
We have 8 years of experience in this industry from a small start-up in a garage, to having an offices and facilities. On top of that an ever-growing portfolio of houses, and a large returning customer base.
In terms of understanding regulatory changes, we have been involved with small council meetings, to recently large knowledge sharing venues with the Welsh Government. With our experience and active participation in the local and regional government planning policies, what we don't know isn't worth knowing!
So, whether you're searching for your first holiday home, or have had one for a few years, our team is just a quick phone call or email away. We can offer you expert advice on all stages of your holiday letting journey.
2. We're local
99% of our team live on the Isle of Anglesey, and 100% of our portfolio is on the Island. Most of our team have been born and bred on the Island and know it back to front, upside down and inside out!
Not only do we know the best beaches, eateries, and the selling points of each village, it is key when promoting your property to our customers.
3. We manage your bookings
One of the things we are proud of and well known for is that we offer our customers a hassle-free booking process. We keep things simple, as they should be.
Our website is simple and easy to use. We don't have pop-ups or messages that appear saying how many people have visited this property in the last 24 hours. Our software also doesn't inflate a price to then use discounted offers when the price isn't discounted; we believe in being open and honest with you and our customers. Our bookings team answer the phones and emails seven days a week, taking the hassle of managing your calendar away from you.
We share your property's calendar, so you have full online visibility to your finance, bookings, and more!
4. We offer more than other agents.
We offer an extended range of services compared to many other holiday letting agents. Below is a brief sample of what we offer:
Use of your property: We don't limit the weeks or times of the year you can use your property. We offer a one flat rate commission which isn't inflated the more you use your home, because why should you be charged for the privilege of enjoying your own home?
Photography: We use an award-winning professional photographer to take photos of your holiday home. Our photos are one of our top selling items that help promote and sell your home.
Key holding and call out agreement: This is an optional service that we can provide which includes on-call property maintenance, so if a bulb needs replacing, toilet sear tightening, drains unblocking we can sort it all out for you.
Marketing: Our dedicated copywriting team will produce high quality content specifically for your property to maximise interest and sales.
We'll keep you abreast of marketing insights, trends, and statistics relevant to your property, so you stay on top of the game.
Dynamic Pricing: We use dynamic pricing as a demand-driven tool that is paired with extensive market data. This allows us to offer competitive, yet high yielding rental prices throughout the year without compromising on your occupancy rates.
5. We don't have limiting contracts
When you choose us as your holiday letting agent, we have a simple contract which won't tie you into knots. If you don't believe us, we still have our very first property on our books – which says a lot! Should you choose to leave us, that's simple too; we don't hold onto your property name or keep your property on our site. Once you choose to go, everything comes off our website giving you the flexibility to move on with no niggles.
We hope this has given you an insight into how we work, how we support you as valued owners and how we work with our fantastic customers.
100% of our property owners would be happy to offer a reference if you would like one.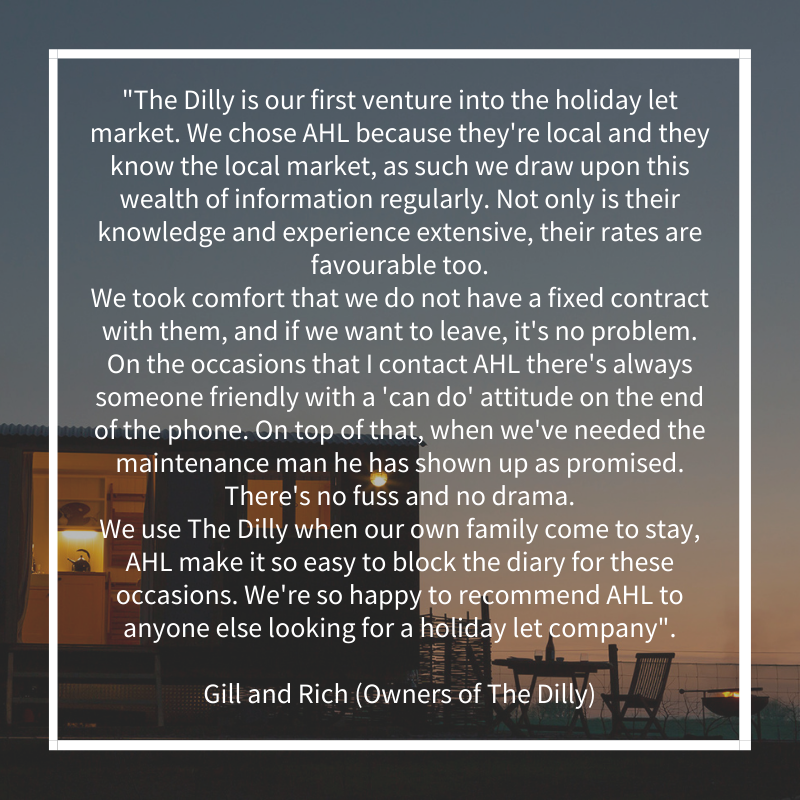 For more information and if you feel like you want to speak with someone to discuss running a holiday let, follow the link to our 'Let Your Property' page.